Saint Peter's upsets Quinnipiac women's soccer, 1-0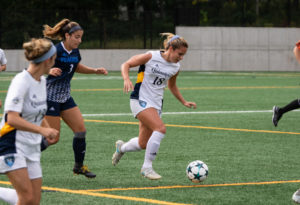 Morgan Tencza | The Quinnipiac Chronicle
The Quinnipiac women's soccer team suffered a tough 1-0 loss against Saint Peter's on Wednesday afternoon in Hamden. The Bobcats fall to 3-1-1 in the MAAC and 6-5-1 overall on the year.
The Peacocks were led by graduate student midfielder Alexandria Couto, who scored the only goal in Wednesday's contest.  Saint Peter's totaled two shots all game, both of which came in the second half. Quinnipiac had 13 shots but had difficulty finding the back of the net.
"You always have to defend well," Quinnipiac head coach Dave Clarke said. "The beauty of football is that you can absolutely dominate in shots, possession, free kicks, corners, you name it, and still win 1-0. American football, ice hockey, baseball, basketball, if you dominate statistically, you win games. In soccer, you don't, and that's why you're always waiting for one chance."
Couto broke free from the defense and scored the sole goal of the game in the 62nd minute.  She fired the ball past junior goalkeeper Olivia Myszewski, hitting the left post on the way to the back of the net.
"Saint Peter's worked for it – they deserved it," Clarke said. "They had came with a game plan, stuck with it, got the goal which is what they were playing for, and we gave them something to defend. That's the beauty of the game. We didn't take care of the details, Saint Peter's did. They showed us out. They won 1-0. They got the goal. We can't take that away from them."
Of the Bobcats' 13 shots, six were on target, but it was not enough to break past opposing sophomore goalkeeper Victoria Scarratt.
"We never looked like scoring for all the chances, we didn't make the keeper work," Clarke said. "She made one good save in the first half and we didn't make her work, and that's the difference."
Clarke was especially disappointed in the way his team slowed down the pace of the game.  The Peacocks thrived off the slow play and was able to lock up the Bobcats on defense.
"They did a whole session yesterday on playing speed of play, two touch in the midfield, which we didn't do," Clarke said. "We slowed the game down which is what they wanted. In academic terms, if I'm a professor and I tell you what's on the test tomorrow, and you study something else and fail the test, who's fault is that? It's not mine. I told you I'm giving you the questions and answers. Here's the questions. Here's the answers. Just write it down tomorrow. I'm teaching history and they came in submitted a geography test. That's why they lost."
The Bobcats will look to convert their opportunities on the road against the second best team in the MAAC, the Monmouth Hawks, this Saturday, Oct. 7.
When asked what he should tell his team to prepare for Monmouth, Clarke said, "You hope you don't have to say anything."
Comments