MAAC basketball preseason award winners announced
The Metro Atlantic Athletic Conference (MAAC) held its preseason awards show for men's and women's basketball on Tuesday evening and both the Quinnipiac men's and women's basketball team's were well represented.
The Quinnipiac women's basketball team was picked to once again finish in first place in the MAAC this season.
The Bobcats are coming off of back-to-back conference titles and NCAA tournament berths and will look to add to that success this season.
"We're concerned with getting ourselves being really great one day at a time," head coach Tricia Fabbri said. "You have to take that short term approach to have success.
"We certainly know what gets us up everyday and why we are doing what we are doing because when you're participating in the NCAA tournament having those wins that's the best part of the season."
The men's basketball team was picked to finish tied for third place with defending champion Iona. The Bobcats finished sixth in the MAAC last regular season in Baker Dunleavy's first year at the helm and made their first appearance in the MAAC semifinals in four years.
Both the men's and women's team had multiple players on the preseason All-MAAC teams.
For the women, senior forward Aryn McClure was a unanimous All-MAAC First Team selection and was also selected as the preseason player of the year for the conference.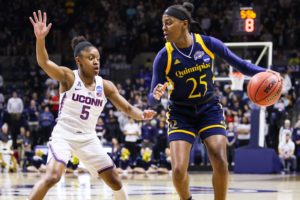 Morgan Tencza
McClure, who was a All-MAAC First Team selection last season finished the year averaging 12.2 points and 5.8 rebounds, leading the Bobcats to a conference championship and an eight seed in the 2018 NCAA tournament.
"My personal goal is to win another MAAC championship," McClure said. "Nothing is better than cutting down the nets with your teammates."
Fellow senior forward Jen Fay was also a unanimous selection to the All-MAAC First Team after averaging 13.3 points and 6.7 rebounds as a redshirt junior last season. Fay was also a All-MAAC First Team selection in the 2017-18 season.
Senior forward Paula Strautmane was an All-MAAC Second Team selection for the Bobcats. Strautmane averaged 9.4 points and 4.7 rebounds as a junior and blocked a team-high 55 shots.
"We certainly are veteran," Fabbri said. "We've got an incredible senior class that has just seen so much success in the program because of what they have been able to do individually and then collectively as a team."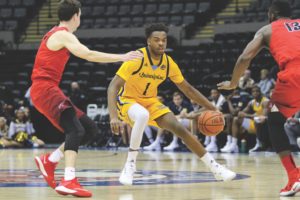 Morgan Tencza
As for the men, graduate student guard Cam Young was selected to the preseason All-MAAC First Team a season after breaking the school's single season scoring record with 622 points.
Young, who was granted an extra year of eligibility by the NCAA this past summer, made the  2017-18 All-MAAC Second Team, averaging 18.8 points, 6.8 rebounds and 2.8 assists per game.
In addition to Young, sophomore guard Rich Kelly was selected to the preseason All-MAAC third team, a year after making the All-MAAC Rookie Team as a freshman.
Kelly is coming off a strong campaign where he averaged 11.1 points and 4.7 assists while playing 34.2 minutes per game.
After a season that saw both the men's and women's teams make it to the final four in their respective conference tournaments, the expectations for this season remain high with both team's expected to repeat last year's success.
Comments