Off the beaten path
Places to hike while the Giant hits the snooze button
Even though the Sleeping Giant State Park remains closed indefinitely for restoration, there are other places where you can enjoy the autumn scenery. Here are a few of the best 'fall'back options nearby. –A. Guerra
"Hike" to Yoga
275 Mt Carmel Ave. Hamden 
If you're not looking to go off campus, Reflective "Hike" to Yoga is still being offered this fall. Those interested can meet on the Lawn of the Albert Schweitzer Institute every other Monday at 4:30 p.m. The next Reflective "Hike" to Yoga will be on Oct. 8. Be sure to bring your own water and towel or blanket to do yoga on.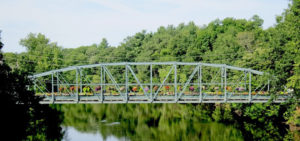 Photo Courtesy of fchtrail.com

Farmington Canal Heritage Trail


 

270 Sherman Ave. Hamden

Seeking more of a nature walk than a hike? Look no further than Farmington Canal Heritage Trail. Its largest trail spans nearly 50 miles and offers spots for fishing, biking and of course, hiking. As the name implies, you may see some of the canal while traveling through this former railroad. Although this trail isn't as close as the Sleeping Giant, it's still conveniently located across the street from York Hill Campus. 

West Rock Ridge State Park
 29 Main St. Hamden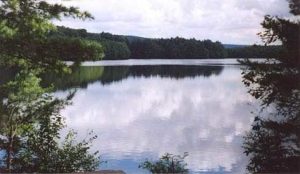 Photo Courtesy of Ctgov.org
This local park is only a twenty minute drive from school, making it a popular alternative to the Sleeping Giant. It stretches across New Haven, Woodbridge and Hamden, and offers 21 miles of hiking trails. While on their hike, visitors can see about 200 square miles from different locations along the trails. These lookout points offer Instagram-worthy views of New Haven Harbor and the Long Island Sound, according to the park's website.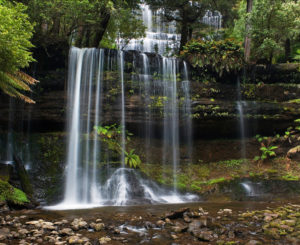 Kelly Ryan | The Quinnipiac Chronicle
Roaring Brook Falls Park
857 Roaring Brook Rd. Cheshire
If you're looking for a shorter trail, the Roaring Brook Falls Park is the place to go. It offers one trail that is 1.4 miles long and loops back to the entrance. The park features two waterfalls, one of them being 80 feet tall, making it one of the tallest in the state, according to newenglandfalls.com. Another interesting factor of this trail is that it is accessible to the public year-round.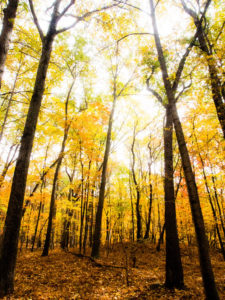 Photo Courtesy of Sharat Ganapati/Fliker
Naugatuck State Forest
225 Beacon Rd. Bethany
This state forest is separated into five "blocks" – Mount Sanford (Cheshire and Hamden), East (Beacon Falls, Bethany, Naugatuck), West (Naugatuck, Oxford, Beacon Falls), Quillinan Reservoir (Seymour, Ansonia) and Great Hill (Seymour). Each block has its own combination of trails, which include the more popular Quinnipiac Trail and Naugatuck Trail, according to the park's website. The forest also has scenic views of the Naugatuck River and other bodies of water.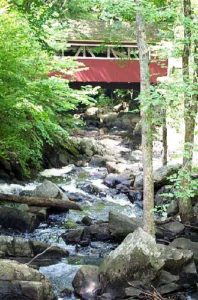 Photo Courtesy of Ctgov.com
Southford Falls Park
175 Quaker Farms Rd. Southbury
Originally the site of the Diamond Match Company, this park features the fast-flowing waterfalls of the Eight Mile Brook. The park covers 126 acres of land and the hiking trails that are open year-round. Besides hiking, visitors can go ice skating and fish for trout from the state's fish hatcheries.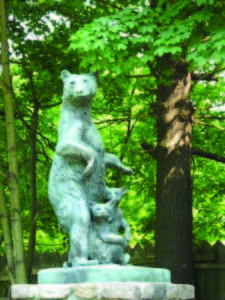 Photo Courtesy for Ctvisit.com
Collis P. Huntington State Park
175 Sunset Hill Rd. Redding
"Life-like sculptures of bears and wolves welcome your arrival to this peaceful and tranquil setting featuring open fields and dense woodlands," according to the park's website. The sculptures featured at the park entrance were made by Anna Hyatt Huntington, who made the Joan of Arc statue in New York City. The park has 1017 acres of land that include ponds, trails and woodlands. 
Gillette Castle State Park
67 River Rd. East Haddam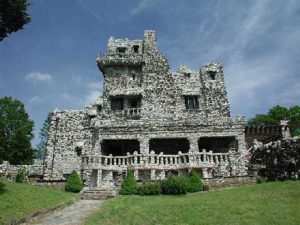 Photo Courtesy of Ctgov.com
Yes, an actual castle resides in this park – and it was the private residence of the actor best known for his portrayal of Sherlock Holmes, William Gillette. After the state of Connecticut purchased the land in 1943 from the executors of Gillette's will, the castle and all the trails surrounding the area became open to the public to enjoy for free. On Oct. 7 at 2 p.m., volunteers of the park will host a half-mile walking tour of the landmarks along the trails.
Comments