Quinnipiac men's soccer beats Saint Peter's, 4-1
Rashawn Dally scores a hat trick in the Bobcats' regular season finale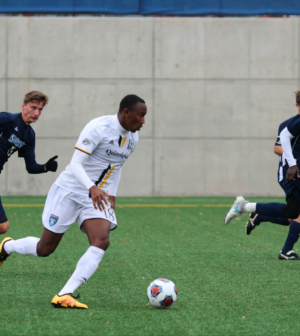 Going into Wednesday's game against Saint Peter's (3-11-2 overall, 2-8-0 MAAC) the Quinnipiac men's soccer team wanted to end its regular season on a high note. The Bobcats (7-9-1 overall, 6-4-0 MAAC) made sure not to let their final tune-up before the postseason go to waste, winning by a final score of 4-1 thanks to the combined efforts of junior forward Rashawn Dally and senior midfielder Max Rothenbuecher.
The Bobcats jumped out to a 1-0 lead in the second minute on the Pelicans early and never looked back. Quinnipiac scored first after Rothenbuecher sent a through ball over the top of the defense, leading Dally to take the ball and fire it in front of the net towards the corner of the far post.
Despite struggling to get on the score sheet earlier in the season, Dally said that has not caused his attitude or mindset to deteriorate.
"I always believed in myself and my teammates," Dally said. "I think this is a good time for it to happen, going into the playoffs and trying to build some momentum."
Conditionally, Dally felt extremely fit on the pitch and it showed with the strength, athleticism, and tenacity that he distributed today.
"I was feeling fit. It was not too hot either, so that helps," Dally said. "I just took advantage of the situation with them not being as strong and fast."
"I don't think that there was anything drastically different from many of the games we played all year except for the fact that we converted more of our chances," Da Costa said. "We still left a lot (of goals) out there which can be a little bit pressuring, but we converted. I think our conversion rate in the second half was much better."
For Saint Peter's, its season came to an end today as they will look towards the brighter pastures of next fall.
For Quinnipiac, it finished in fifth place in the MAAC and will play at Manhattan College on Sunday in the first round of the MAAC Tournament.
Comments