Keys to being a good entrepreneur
The Center for Innovation and Entrepreneurship hosts first 'Coffee with an Entrepreneur' of semester
"An entrepreneur knows and wants to do everything in his own business. A great entrepreneur knows what he can't do, and what he can't do he gets good people to do," Principal at Blueprint Benefits Mark DeFrancesco said.
DeFrancesco was the speaker at the Center for Innovation and Entrepreneurship's first Coffee with an Entrepreneur of the semester. The event was held on Wednesday, Sept. 27 and facilitated by Executive Assistant to the Center for Innovation and Entrepreneurship, Laszlo Dinca.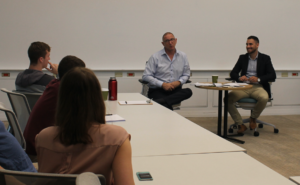 Victoria Simpri | The Quinnipiac Chronicle
Dinca believes that the Coffee with an Entrepreneur series is an opportunity for students and young entrepreneurs to learn from people who've done it already.
"The whole goal of this Coffee with an Entrepreneur is to have a local successful entrepreneur who is willing to present his entrepreneurial journey for the Quinnipiac students and whoever shows up from Hamden," Dinca said.
DeFrancesco began by giving the audience a background on his education and the path that led to him leading an entrepreneurial lifestyle.
While currently working at Blueprint Benefits, a consulting firm in Hamden, DeFrancesco began as an entrepreneur at Cheshire Academy.
"I'd like to say that my first 'legal' business in high school was investing in hats for the Yale v Harvard football game," DeFrancesco said. "I bought 100 hats for $1 each and sold them for $3, and that was the first time I actually invested some money that I had."
After Cheshire Academy, DeFrancesco found himself at Northeastern University.
"I also applied to Harvard and they saw my SATs and said 'here's your english, where's your math?' and I said 'no that was combined,' and they said 'you've got to go to school on the other side of the river," DeFrancesco said.
At Northeastern DeFrancesco enrolled in the entrepreneurship program after having experience in the family business.
During his time at Northeastern DeFrancesco worked for a company called Mickey Finns, the largest sporting goods store at that time.
"It gave me the ability to see every facet of the small business which I really liked," DeFrancesco said. "I began to really understand that an entrepreneur, with obviously some of the classes, really knows and wants to do everything in his own business, it's usually his baby."
DeFrancesco describes a great entrepreneur as a person with a vision, but an entrepreneur cannot be great without good people working with them.
There are many stereotypes surrounding the field of entrepreneurship, according to Dinca. The six myths of an entrepreneur, are that they are an individual, charismatic, they are born not made, they are the smartest person in the room, they are undisciplined and they are risk takers.
"(People think that) entrepreneurs are individualists, they want to go solo," Dinca said. "This is not true. They all work in teams, and an entrepreneur should know what they cannot do to find the right people who can."
Dinca emphasized the importance of seeking and searching for opportunities when starting out as an entrepreneur, or even as a senior entrepreneur.
"Today Mark DeFrancesco said that you should always keep on educating yourself, but I would also add that you also need to seek for opportunities and I think networking is one of the best ways," Dinca said.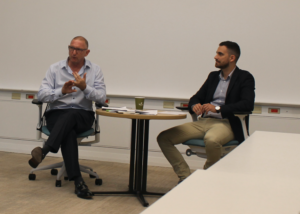 Victoria Simpri | The Quinnipiac Chronicle
The Center for Innovation and Entrepreneurship is working with the Whitneyville Cultural Commons to reach out to the local community to expand the reach of the audience, according to Dinca.
"We are also discussing with the universities in CT, to encourage their students to visit our events," Dinca said. "At Quinnipiac University we need to let students know about the tremendous value of our events. Not only for entrepreneurship major, for everyone."
The Center for Innovation and Entrepreneurship has the potential to be the differentiator for Quinnipiac University, compared to other universities in Connecticut, according to Dinca.
"We have demonstrated several times that we bring great value to the University and we are planning to go forward on this path," Dinca said.
Comments