Quinnipiac field hockey earns first win of the season
The Bobcats beat Yale for their first home victory since Oct. 14, 2016
Coming off of last Sunday's loss against Holy Cross, the Quinnipiac field hockey team defeated Yale 4-2 on Friday to earn its first victory of the season. With the win, the Bobcats improve to 1-4 on the season, while the Bulldogs drop to 1-1.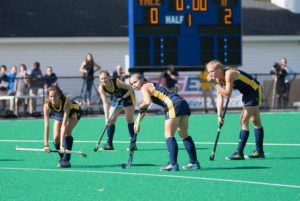 Richie Petrosino
Quinnipiac totaled 13 shots attempted to Yale's 11, outshot the Bulldogs 9-7 in shots on goal and earned an improved record as a result. After the game, head coach Becca Main talked about how crucial it was to score a season-high 4 goals.
"We really had to refocus this week at practice, this is the point of the season where you're really trying to find who you are," Main said. "I couldn't be any happier with the results, and we really put our game plan into fruition."
Coming into the game, the Bobcats were looking for players like senior Lauren Belskie, graduate student Montana Fleming, sophomore Valerie Perkins and senior Dayna Barlow to step up for them. But it was senior Selina Reichert who scored the first goal of the game, and her first of the season.
Barlow, who was named captain prior to the game, scored the second and third goals for the Bobcats and extended the lead to 3-1.
Main also commented on why she felt Barlow was the right choice to be one of three captains.
"With [Barlow], I'm able to turn to her and say, 'This is what I need from you and I need it now,' and she responds 'Okay coach,'" Main said. "She was really instrumental in practice this week and proved she doesn't just talk the talk, but walks the walk as well."
A three-year veteran of Main, Barlow was Quinnipiac's leader in game winning goals (3) in 2016. She added her first game-winner of the season on Friday and became Quinnipiac's current leader in points (5) as well.
"It means alot to me that coach Main has confidence in me and named me captain," Barlow said.
About 11 minutes into the second half, Yale scored its first goal of the game, but the Bobcats kept their foot on the gas when sophomore Ines Ruiz Martinez scored her first goal of the season to make it 4-1.
Yale's second goal of the game beat Golini with less than eighteen minutes in the half, but the Bobcats held on for the victory.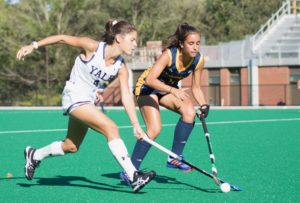 Richie Petrosino
Sophomore goalie Livy Golini made four saves on six shots on goal, while Belskie totaled two assists on the day.
"It seems like a Quinnipiac thing to beat Yale as your first win of the season," Main said. "Now, it's nice to get the monkey off our back and it doesn't have to hang with us on the field anymore."
On Saturday, the Bobcats will try to carry the same momentum against Hofstra, looking to earn their first road victory of the season.
Comments