Discover New Haven
Seven places to check out and explore in the city
Many Quinnipiac students know a lot about New Haven's nightlife. However, students can have many other experiences in the city other than – or in addition to – Toad's Place.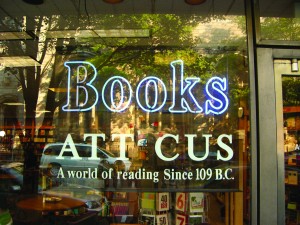 Contributed by Aaron Gustafson
Atticus Bookstore & Cafe – 1082 Chapel Street
Atticus Bookstore & Cafe is another favorite for New Haven residents. They sell food, coffee, books and greeting cards, and are located across the street from the Yale University Art Gallery.
Hours: Monday: 7 a.m. – 6 p.m. Tuesday-Saturday: 7 a.m. – 8 p.m. Sunday: 8 a.m. – 8 p.m.
East Rock Park – 41 Cold Spring Street
An alternative to the standard hike up Sleeping Giant would be East Rock Park. According to the cityofnewhaven.com, this is a 425-acre park complete with a rose garden, hiking trails, the Soldiers & Sailors Monument and other interesting features.
Hours: Closed from sunset to sunrise.
Fashionista Vintage & Variety – 93 Whitney Avenue
If you're looking for some retail therapy and a quirky setting, the Fashionista Vintage & Variety shop sells unique clothing and accessories for men and women and receives new items almost every day.
Hours: Monday: Closed. Tuesday-Saturday: 11 a.m. – 7 p.m. Sunday: 12 p.m. – 5 p.m.
Tikkaway Fresh Indian Grill – 2 Howe Street & 135 Orange Street
Tikkaway Fresh Indian Grill has two locations in New Haven. One is located at 135 Orange St. and the other at 2 Howe St.
The restaurants serve fresh Indian food with vegetarian, vegan and gluten-free options, according to the Tikkaway Grill website. The signature dishes are the samosa chaat, the classic veggie wrap and the classic chicken wrap.
Hours: Monday-Friday: 11:30 a.m. – 10 p.m. Weekends: Noon – 8 p.m.
Yale Cabaret – 217 Park Avenue
According to yalecabaret.org, Yale School of Drama students put on creative performances in a welcoming basement setting. The theater offers student discounts.
Additionally, the venue doubles as a restaurant. Audience members get food before each performance, which creates a fuller theater experience.
Details: Dinner at 6:30 p.m. Show starts at 8 p.m. For late show: Small plates and dessert at 10 p.m. Show starts at 11 p.m.
Yale University Art Gallery – 1111 Chapel Street
According to the Yale University Art Gallery website, the art collection consists of more than 200,000 objects from Eastern and Western cultures. This collection has samples that span in date from ancient times up until present day. The gallery displays several works of famous artists, such as some paintings by Vincent van Gogh. The gallery is located a half mile away from the Temple/Chapel Street shuttle stop.
Hours: Tuesday-Friday: 10 a.m. – 5 p.m. Weekends: 11 a.m. – 5 p.m. Closed on Mondays.
Zoi's on Orange – 338 Orange Street
Zoi's on Orange is a popular spot for a delicious breakfast or lunch. Their mission is to provide customers with fresh food quickly and serve deli-style food, according to zoisonorange.com. According to Yelp, the homemade chicken cutlet sandwich was reviewed as delicious as were their french fries.
Hours: Sunday: Closed. Monday-Friday: 7 a.m. – 3 p.m. Saturday: 7:30 a.m. – 1:30 p.m.
New Haven is not solely about the nightclubs. There is a wide variety of cheap and enjoyable restaurants, scenic spots, shops and museums tailored towards anyone's taste. It is easy to spice up a boring day by experiencing one of these fascinating places in the city.
Comments