Forbes, Feal, Jenks to lead commencement

Steve Forbes, John Feal and Andrew Jenks will speak at the three commencement ceremonies in May, the Student Government Association announced during the men's basketball game last Thursday, Feb. 27.
Forbes will speak at the commencement ceremony for the Schools of Business and Communications. Forbes is responsible for writing editorials in the nation's leading business magazine, "Forbes," which is a part of his company's flagship program. He has written a number of books and his company produces a great deal of publications and websites.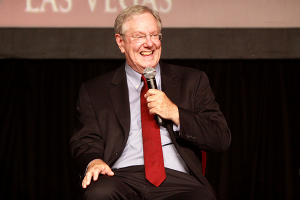 Gage Skidmore/Creative Commons
"Because it is both the schools of business and communications, I think [Steve Forbes] is the perfect person because he kind of bridges that gap," senior Jennifer Adler said. "He is a publisher but also does a lot of business so I think it is kind of perfect.
Feal will be the speaker for the Schools of Health Sciences and Nursing. Feal was a first-responder for 9/11. He received the New York State Congressional Medal of Honor for Civilians and Beyond for his donation of his kidney and advocacy in 9/11. He created the FealGood Foundation, which has a mission to assist first responders and individuals who were injured as a direct result of their efforts at the World Trade Center following 9/11.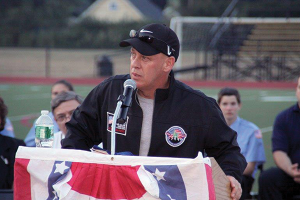 John Feal
Senior Shannon Savage said she is excited to hear a 9/11 first responder speak.
"I have worked as an EMT for a couple of years so I am pretty excited to hear about his experiences, especially since I am going into healthcare," Savage said. "I am hoping it will be inspirational and uplifting."
Jenks will take the stage at the commencement ceremony for the College of Arts and Sciences. Jenks directed, produced and starred in documentary film, "Andrew Jenks, Room 335," where he shows viewers what it is like to live in an assisted living facility. Jenks has lived in New York City; Kathmandu, Nepal; Brussels, Belgium and Japan. When he was 16 years old, Jenks founded the Hendrick Hudson Film Festival, one of the biggest high school film festivals in the United States. Jenks also stars in the MTV show "World of Jenks," where he follows unique young people and experiences what they go through.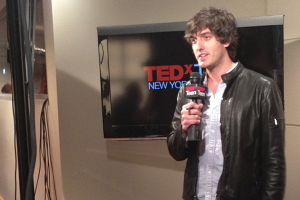 Scholastic Inc/Creative Commons
"[Andrew Jenks] is really relevant and I actually knew who he was," senior Paige MacLeod said. "He isn't just someone on MTV [for 'World of Jenks']. He actually seems like someone who is educated about things."
Eight members of the senior class cabinet came up with a list of ideas for commencement speakers they thought people would like. The cabinet then sent an email survey to the senior class to see which speakers the students wanted to see most.
Forbes and Feal were the No. 1 selection for their schools and Jenks was the second choice for those in the College of Arts and Sciences, senior class president Emily McDonald said.
"I just want something to inspire us all," McDonald said. "I was here last year and the commencement speakers did a really nice job."
McDonald said there was an endless list of people the senior class cabinet could choose from for the commencement speakers, and in the end they were happy with the people they could get.
"I just want somebody who can wrap up the four years that we have spent and make us excited for the future," McDonald said.
All commencement ceremonies will take place on Sunday, May 18. The School of Business and Communications ceremony will begin at 9:30 a.m. The School of Health Sciences and Nursing will follow at 2 p.m., and the College of Arts and Sciences ceremony will begin at 6 p.m.
Comments