Non-credit Korean class calls for added diversity

In fall 2013, Associate Professor of Communications Sang Nam seized the opportunity to bring a new sense of diversity to the Quinnipiac community. By creating a non-credit Korean course, Nam has given faculty, staff and students the chance to learn basic Korean culture and language.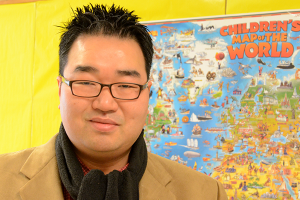 Megan Maher
As a Korean-American, Nam said he wanted to introduce his own culture to the university.
"Korean culture is virtually unknown to our students," Nam said. "But if you think about recent mega hits on YouTube, like Psy or some K-Pop, it was a good time to introduce the culture."
In order to get his course started, Nam said he worked with the Department of Modern Languages and the Office of Multicultural and Global Education.
"I know Quinnipiac is very interested in diversity," Nam said. "I talked to [Department Chair of Modern Languages] Ronald Quirk about offering this Korean language class, and we got a room through the Office of Multicultural and Global Education."
Nam's non-credit Korean language and culture course is held every Tuesday from noon to 1 p.m. in Athletic Center Room 233.
Quirk said there are many advantages to having this be a non-credit class.
"Students do not have to pay for it, as they would if their credit hours exceeded 16," Quirk said.  'The course does not have to meet for three hours per week.  The course does not have to pass academic approval."
Nicole Kurker-Stewart, assistant director of international programs, said a wide variety of audiences took interest in this non-credit course.
"It's open to the community and for anyone who's trying to improve their language for any reason," Kurker-Stewart said.
Last semester's course had a turnout of eight people per week, and attendance boosted to 12 people at last week's first class.
Nam said he aspires to hold two classes per week if attendance increases.
"I hope to have more people so that maybe we can offer two classes at different times," Nam said. "I know some people who attended last semester couldn't make it because of a conflict in their schedules."
Since this course is available to everyone on campus, Nam wants to continue offering his non-credit class while working on creating an official Korean course for students.
"My goal is to offer this non-credit course no matter what; I want to introduce this culture and language to the Quinnipiac community," Nam said. "But I hope to work on creating this official course for students."
According to Quirk, Nam's basic Korean culture and language class may offer credit to students if popularity continues to grow.
"If there is sustained and widespread support, we could offer a 6-credit sequence of Elementary Korean in the future," Quirk said.
Kurker-Stewart said there is a need for both a credit and non-credit course in this subject if attendance continues to increase.
"I think the idea of this was partly to pilot interest among students, and if there is an interest, then maybe expanding that into credit," Kurker-Stewart said. "If that were the case, I think we would probably end up splitting it up into a continuing not-for-credit conversation class."
Nam said he believes conversational courses like his are a great tool to promote diversity on campus.
"Quinnipiac is working hard to champion diversity, and one way to do that is to approach student with this casual approach," Nam said. "No credit, no pressure. Just have fun and get to know the culture."
Comments