If QU students had $500 million…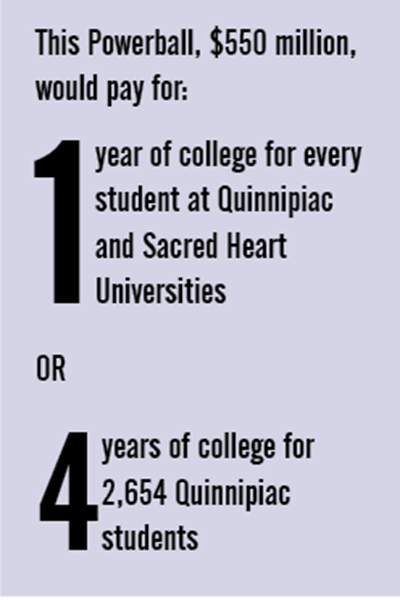 Powerball jackpot fever struck the nation last week as millions of Americans rushed to their local convenience store hoping to buy a winning ticket. Total winnings reached $550 million, roughly $360 million after taxes. Five balls are picked from a vat of 59, and then one more ball (the Powerball) is picked from a vat of 35. Cornelius Nelan, professor of mathematics, said the chances of winning the big prize was roughly 1 in 176 million according to an article on the university's blog, The Quinnipiac Wire.
The drawing happened on Wednesday, Nov. 28, and lottery officials said two winning tickets were sold: one in Arizona and one in Missouri. While no member of the Quinnipiac community was able to cash in, this is what your fellow Bobcats would spend the money on.
Lindsay Smith
Southbury, Conn.
Senior
Diagnostic Imaging
I would definitely give a couple million to each of my family members and my friends who have always been there for me. I would give to a bunch of good causes. I would travel the world; buy cars, clothes, and a house and summer home. Pay off my outrageous school bills (thanks Quinnipiac) and go to a million Eminem and Macklemore concerts.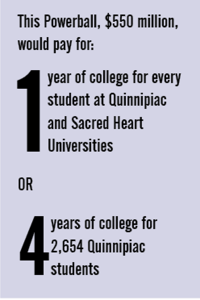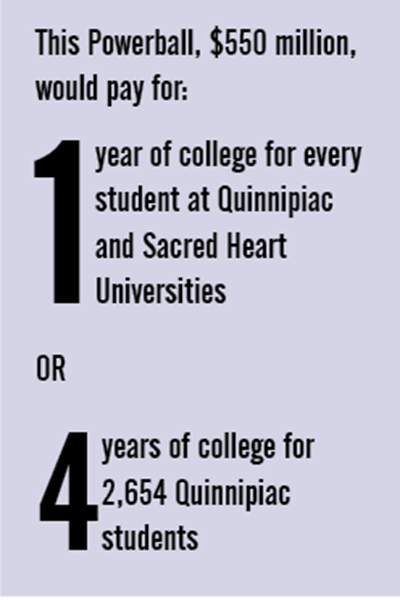 Gaby Catalano
Basking Ridge, N.J.
Senior
English
I would buy a rather large house for my family and me. I would also pull a Matt Damon and buy a zoo because I would have the necessary funds and I really like giraffes. I've always been a lover of the arts and I'd like to donate an entire wing to the Met that would only showcase crayon and marker drawings of cats and dogs. I would also donate some of the money to numerous charities and organizations that are near and dear to my heart. Lastly, I would buy myself a fancy and majestic replica bronze Bobcat for my front lawn.
Stephanie Bourdeau
Queens, N.Y.
Sophomore
Biomedical Sciences
I would probably faint. After I recovered, I would then buy twin ligers, buy a mansion, pay off any and all debts and loans, and then start spending recklessly.
Brandon Goode
Toronto, Canada
Junior
Biology
I would buy my own private island, get Q.U. a stadium with a swimming pool, donate to numerous charities, and with the money left, I'd buy the Toronto Raptors.
Faith Goumas
Oxford, Conn.
Senior
Public Relations
I'd first pay off my sister's law school loans, force my parents to retire, and move them to the Florida Keys. I'd also make a sizeable donate to the American Cancer Society. Then, I would hire a financial advisor to make some smart investments and buy my way on to the "Real Housewives of Beverly Hills." Lastly, I would buy Aunchies.
Mike Hale
South Windsor, Conn.
Junior
Management
I would put restaurants that serve real food on the fifth floor of the York Hill parking garage. I would also start an airline business, which didn't have frequent flyer miles but instead gave every passenger a handle.
Ashley Kivela
New Milford, Conn.
Junior
History Major in the MAT Program
I would pay my parents back for all the college loans they had to take out to pay for my sister and I, and pay off the mortgage on their house. I'd also make major donations to organizations, such as the Human Rights Campaign, the Trevor Project to try, the LGBT community. After that, I would just try and live comfortably and then leave the rest in a bank account for my future family.
Comments