10 students protest against security actions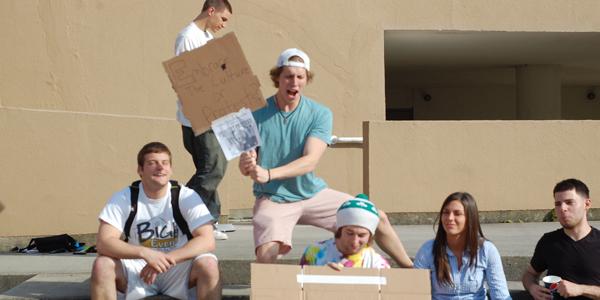 Around 10 students gathered in Complex Courtyard at 5 p.m. to protest security's actions on May Weekend.
Katherine Rojas | The Quinnipiac Chronicle
Sophomores Brian Blake and John Daly led "Project Protest," an event held by the unofficial Quinnipiac organization "The Student Demonstration Organization," to "show the administration that how they treated [students] this May Weekend was abusive and unjustified," according to fliers promoting the protest.The students planned to rally on Bobcat Way, past security and stay on the Quad. The fliers also advised students to wear empty backpacks, carry signs and posters, and bring "anything that will express your feelings towards the unjust actions of the authorities."
Despite the fliers calling for action, only the protest leaders and a few of their friends attended.
"Right now we're just sitting, chilling out; just throwing a frisbee and tossing a football, but at the same time we're making a statement," Daly said.
Security officers patrolled on their bikes around Complex Courtyard sporadically; however, they did not take any action.
"Security knows about this, we've seen security bikes pass by, our goal is accomplished," Daly said. "All we really wanted was attention from security; to let them know that we're fed up."
Sophomore Brian Gerlach did not agree with security searching backpacks during May Weekend, and found it unnecessary.
"All we're saying is we're sick and tired of security abusing their power and that we're not trying to get anyone in trouble or start ruckus," Gerlach said. "It's a peaceful protest, we're not trying to start something."
The protesters may not have gathered as many students as they had hoped, but they plan to continue the demonstration.
"It's student consensus that people are pissed off, and all we're trying to do is express it to authorities," Daly said. "It seems to me that we're the only voice as of now."
Comments