Campus Couture: Jenna Alburger

Name: Jenna Alburger
Age: 20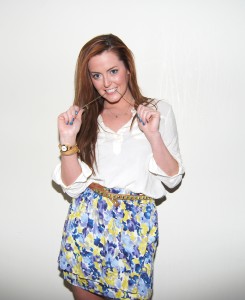 Year: Sophomore
Hometown: Nanuet, N.Y.
Major: Marketing
What are you wearing: A floral skirt from BCBG, white blouse from Urban Outfitters, brown leather boots from Steve Madden, studded leather belt from Below the Belt, brown leather watch from La Mer.
Style influences: My style varies based on how I'm feeling. Fashion magazines like Nylon and Free People have an influence on what I wear. I like to generally keep my clothes basic and wear jewelry that is unique. I love Siena Miller's style; she always stands out to me as a fashion icon. If I could dress like anyone it'd be her.
Photo credit: Ilya Spektor
Comments